Arafah International School – Beyond the Boundaries of Mere Books
Education is the most powerful tool which you can use to change the world.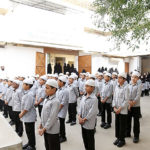 Arafah International School provides a strong academic and Islamic background. We follow the CBSE syllabus and working beyond providing sound education. We wish to provide our students a holistic learning experience for life. Our aim is to teach students to learn, not just study. Hence, we strive to travel beyond the boundaries of mere books. We have realized that the future is abstract and unknown, but the youth are real and can be molded. Our main aim is to help the children to graduate successfully and take their place in society, as professionals who will not only serve as role models for generations of Muslims to come, but also as intelligent and thoughtful citizens who will contribute their best to their nation.
Completed Five Years
At Arafah, we don't just teach, we inspire. We practice a wide range of techniques, which are at par with the best education standards. Arafah has successfully completed five years. The results are evident from the response we get from the parents. This has made Arafah International School, in these few years, one of the well known Islamic Schools in North Bangalore.
Arafah Tiny Tots
We are glad to announce about our new kindergarten branch this academic year in our brand name as "Arafah Tiny Tots" in HBR Layout. Admissions are open in all our branches. For further details contact us on 9741122897 or email us on [email protected]