Muslim Student Helps Jewish woman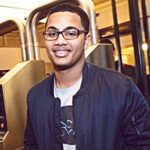 A brave Muslim student from a high school in the USA, helped cops bust a man who randomly slammed his open hand into an Orthodox Jewish woman's face on a Brooklyn subway train. Ahmed Khalifa, 17, of Midwood chased down Rayvon Jones, 31, after he attacked the woman, "It was a very hard slap, I almost could feel the slap," Khalifa said. The woman suffered a gash on her lip, swelling and bruising. She was taken to Methodist Hospital in stable condition. Khalifa held the subway doors and yelled at the conductor to stay in the station and call for help. "A lady told me to run after the guy," he said. "It took me a while to catch up. He started sprinting."
"Some people are like 'she's Jewish, why did you help her,' " he said. "I'm like everyone is equal. I treat everyone the same way." Khalifa said he doesn't want to be called a hero. "It was just something anybody should do," he said.