Ghousia Engg. College, Ramanagram – Nabi Shariff Block Commissioned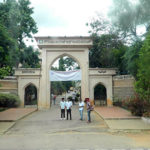 Ramanagram: The Ghousia Engineering College here added Post Graduate Block which was constructed at a cost Rs. 8 crore. The four-storey building has been dedicated to Haji Nabi Shariff, the philanthropist from Ramanagram who donated the land for the Engineering College 35 years ago.
The College was awarded the Best Engineering College for Quality Technical Education in Karnataka at the Asia Education Summit and Award 2017 on March 9 in New Delhi.