Girl Students Design App for Organic Farmers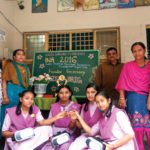 Bengaluru: Five girl students of Excellent School have prepared an App that provides the organic farmers a platform to connect with the customers directly. Named "GoOrganeco", it helps the customers looking for healthy and nutritious vegetables and other farm products to directly reach the producers of these items and thereby eliminating the middlemen.
It was prepared by Muhemina Noorain, R. Afreen Taj, Khush Naz, and Sana Arshi, all students of 9th standard of the school located in Bismillahnagar. The girls worked for two months on it and came up with the App in April this year.