HSIS Gosha Hospital's New Building Commissioned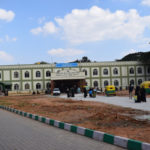 Bengaluru: The new building of Hajee Sir Ismail Sait Gosha Hospital in cantonment area of Bengaluru was commissioned on November 5. The Hospital has now 300 beds and has Intensive Care Unit (ICU) and Neo Natal Care Unit.
The National Rural Health Mission sanctioned Rs. 12 crore for the new building. The work started in 2012. The Hospital was built by Hajee Sir Ismail Sait in 1925, a very successful businessman who had expanded his business empire to then Madras (now Chennai), Secunderabad, and Calcutta and ran a variety of businesses. He had donated the land and Rs. 150,000 for the construction of the hospital so that purdah observing Muslim women could avail of modern medical care under purdah. However, now the hospital is a Government institution and provides health care to one and all. Chief Minister Mr. Siddramaiah commissioned the new building in the presence of R. Roshan Baig, the Minister for Urban Administration and Hajj and Health Minister, K. R. Ramesh. Mr. Baig took active interest in the construction of the new building as it comes under his constituency of Shivajinagar. The Chief Minister also laid the foundation for a new Medical College to come up in Lady Curzon and Bowring Hospital in the same area. The college would have an intake of 150 students each year for the MBBS course and will have around 300 doctors in its staff. The first batch will be admitted next year. The medical college is coming up on a 14 acre land on the premises of Bowring and Lady Curzon Hospital and 3.5 acre land in Gosha Hospital and will have 13 floors. It will have a basement for 150 cars and 200 two-wheelers. Mr. Roshan Baig has requested the Chief Minister to direct the Bengaluru Metro Rail Corporation to connect the two hospitals i.e. Gosha and Bowring, with the Metro Station coming up in Chhota Maidan in Shivajinagar with a subway in order to facilitate patients alighting from the Metro.