Maulana Azad Uniy., Jodhpur – Lab, Comp. Centre Commissioned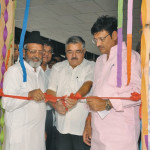 Jodhpur: The Pharmacy Lab of the Maulana Azad Institute for Pharmaceutical Sciences and Computer Centre, of the Computer Science Department of the Maulana Azad University was commissioned here on June 7, by Rajasthan Wakf Minister Rajendra Singh Rathore. The Minister complimented the management of the waqf income from the Takia Chand Shah Waqf Complex by the Maulana Azad University who have set up several educational institutions during the last 30 years.
Minister Rathore said Wakf property belonged to God and all care should be taken to properly manage it and take its benefit to the poor and the deserving. Rathore said he would order the survey and protection of nearly 17,000 wakf properties in Rajasthan.