Muslims Participate in Gujarat Flood Relief Work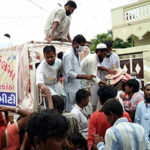 In flood-clad town of Dhanera in Banaskantha (Gujarat), 64 people have lost their lives to floods recently. Considered as a Hindu-dominated town, some 3,500 Muslims from Dhanera, Deesa, Palanpur and nearby villages gathered under the banner of Jamiatul-Ulama-i Hind, to aid the town, cleaning places of worship and residence alike, after waters started receding slowly.
The Jamiat claims that the town was submerged under 10 feet of flood waters that coursed its way through thousands of homes, leaving behind a trail of destruction. The volunteers from the Jamiat cleaned some major temples in Dhanera like Ganapati, Hanuman, Satimata, Lilashah and Ashapura Mata temples in the first two days itself with the help of locals, sending out a very positive message of communal amity.