Pope Francis Praises Peace & Harmony in Azerbaijan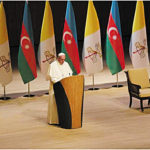 Baku, Azerbaijan: In a meeting with political leaders during his recent visit to Azerbaijan, Pope Francis, head of the Catholic Church, praised the peaceful relationship among Catholics, Muslims, Orthodox, and Jews in largely-Muslim Azerbaijan. In his Oct. 2 speech, he said that during his brief visit, he has been particularly pleased to see "the cordial relations enjoyed by the Catholic, Muslim, Orthodox and Jewish" communities. "It is my hope that the signs of friendship and cooperation may continue to increase," he said, stressing that "the attachment to authentic religious values is utterly incompatible with the attempt to violently impose on others one's own vision, using God's holy name as 'armor.'"
Pope Francis met with the president of the Republic of Azerbaijan, Ilham Aliyev and his wife, as well as other authorities and members of the Diplomatic Corps. In his speech, the Pope emphasized how important it is, especially at the present time, to show the world how it is possible to express one's own ideas and worldview without abusing the rights of those with differing perspectives. "I am confident that, with the help of God, and the good will of those involved, the Caucasus will be a place where, through dialogue and negotiation, disputes and differences will be resolved and overcome," Pope Francis said, concluding his address.