Jahanara Begum
Jahanara Begum defied all stereotypes of being a Mughal Princess.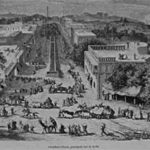 By Sara Bardhan
Jahanara Begum defied all stereotypes of being a Mughal princess. Her life neither revolved around the men of the family nor did she spend her days in the harem as a woman was expected to. She was the eldest daughter of Emperor Shah Jahan and the older sister of Prince Dara Shikoh and Emperor Aurangzeb. She became the First Lady (Padshah Begum) of the Mughal Empire at the tender age of 17 after her mother's death.
Early Life 
Jahanara Begum was born in Ajmer and brought up in Agra. She was taught by many tutors, including Mumtaz Mahal's secretary, Sati-un Nissa, who was known for her knowledge of the Qur'an and Persian literature. She was often found playing chess with her father Shah Jahan.
Jahanara was her father's preferred child. She was allowed to live in her own palace, outside the confines of Agra Fort. French traveller François Bernier wrote: "Shah Jahan reposed unbounded confidence in his favourite child; she watched over his safety, and so cautiously observant, that no dish was permitted to appear upon the royal table which had not been prepared under her superintendence".
Italian traveller Niccolao Manucci, who visited India during that period, wrote: "Jahanara was loved by all, and lived in a state of magnificence."
Sufism
People often referred to Jahanara Begum as Faqirah (ascetic) due to her devotion to Sufism. She suggested that she and her brother Dara Shikoh were the only descendants of Timur to truly embrace Sufism. She commissioned translations and commentaries on many works of classic literature.
Jahanara was the disciple of Mullah Shah Badakhshi, who initiated her into the Qadiriyya Sufi Order in 1641. She made such progress on the Sufi path that Mullah Shah would have named her the successor in the Qadiriyya, but the rules didn't allow it.
In 1644, two days after Jahanara's 30th birthday, her garments caught fire and she was seriously burnt. None of the court physicians could heal her and this greatly distressed the emperor. She was cured by the mendicant named Hanum.
The same year, she went on a pilgrimage to Khwaja Moinuddin Chishti's shrine in Ajmer. Within a year of the accident, she had completely recovered. In gratitude, Jahanara built the shrine's marble pavilion known as Begumi Salam and wrote Mu'nis al- Arwā—Moinuddin Chisti's biography that is acclaimed for its literary craftsmanship.
Endeavours and Legacy 
Jahanara contributed significantly to the capital city of Shahjahanabad. She sponsored the construction of the Jama Masjid in 1648. Her most well known architectural endeavour is probably Chandni Chowk—the principal bazaar of Shahjahanabad.
She also designed a caravanserai for Persian and Uzbek merchants in that area, decorated with canals and gardens. The Town Hall in Delhi stands where her Sarai used to be. This Sarai came to be known as 'Begumabad' or 'Begum ka Baag'. It was her most ambitious project. It was an enclosed space of 50 acres designed solely for the women and children of the royal family.
Jahanara continued the tradition of her family and maintained trade relationships with the English and the Dutch. When 'Sahibi' (a ship she constructed herself) was to set sail for its first journey, she ordered that the ship make its voyage to Mecca and Medina and, "… that every year fifty koni [one koni was 4 muns or 151 pounds] of rice should be sent by the ship for distribution among the destitute and needy of Mecca."
She was also incredibly well known for her charitable donations. She organised almsgiving on important days and was engaged with famine relief trusts and supported pilgrimages to Mecca. Jahanara made important financial contributions in support of learning and the arts. She supported the publication of a series of works on Islamic mysticism.
Death
Jahanara built her tomb in her lifetime. It is made of white marble inside the Hazrat Nizamuddin Dargah Complex in New Delhi and is known for its remarkable simplicity. She was conferred with the posthumous title 'Sahibat-uz-Zamani' (Lady of the Age). The inscription on her tomb is in Persian but the translation is as follows: 
"Allah is the Living, the Sustaining.
Let no one cover my grave except with greenery,
For this very grass suffices as a tomb cover for the poor.
The mortal simplistic Princess Jahanara,
Disciple of the Khwaja Moin-ud-Din Chishti,
Daughter of Shah Jahan the Conqueror
May Allah illuminate his proof."
(Extracted from newageislam.com)