U.S. Muslims hold their "31st Annual United American Muslim Day" Parade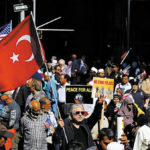 New York: Scores of Muslims waved American flags recently as they marched in the annual Muslim Day Parade in New York City.
The 31st Annual United American Muslim Day Parade began at 38th Street in Manhattan. The revelers, many clutching flowers, marched down Madison Avenue to 24th Street in Manhattan. Members of the New York Police Department (NYPD) and Muslim Officers Society also marched. According to a flyer, this year's theme was "For God and Country." The parade's grand marshal was Khizr Khan, whose son was killed while protecting other soldiers in Iraq.