Shazia Khan's debut cookbook "What's On the Menu," reflects her passion for culinary experimentation and innovation.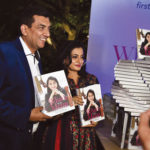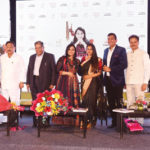 By A Staff Writer
I admire people who have the patience to spend hours in the kitchen to cook for others. Not being a foodie myself (on the few occasions I've tried to make chappatis, they've turned out shaped like maps of various countries of the world!) Yet, attending the book launch of Shazia Khan's debut cookbook What's on the Menu? in Bangalore recently was for me a valuable learning experience.
Published by Om Books International in association with Taj West End, this book by a celebrity chef and first runner-up of the popular show MasterChef India 2, brings together 90 easy-to-make recipes, reflecting Shazia Khan's passion for culinary experimentation and innovation.
Humility is one of the ingredients of success, and Shazia Khan has an abundance of it as I watched her thanking the chief guest at the function, Master Chef Sanjeev Kapoor, guest of honour actress Ramya, her parents, in-laws, and her children, and friends and fans across the globe. Her dedicating the book to her late father was a very touching gesture.
When she's away from her pots and pans, Shazia has her plate full as member of the board of management at Delhi Public School (Bengaluru and Mysore). One of her pet projects involves teaching underprivileged children. Not one to rest on her laurels, Shazia is already working on a second cookbook and is planning to set up a culinary school.
Shazia Khan can be reached at [email protected]
(You can pick up a copy of What's on the Menu? from Flipkart (goo.gl/AEG5m6) or Amazon (goo.gl/0LIwz4), Infibeam (goo.gl/MRkyMF). It's also available at various bookstores).