Egypt – Making Ramazan Less Stressful for the Poor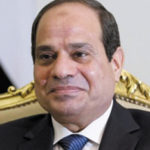 Cairo: Egyptian President Abdel Fattah El-Sisi has sought to ease the concerns of Egyptians grappling with rising prices in the holy month of Ramadan by pledging a raft of economic measures including tax breaks.
El-Sisi, in an interview published in state newspaper Al-Ahram, said his government would introduce tax cuts and increase subsidized food to help Egyptians struggling amid the highest inflation rates in decades. Affordable food is an explosive political issue in Egypt, where tens of millions of people live below the poverty line.