First Islamic Summit on Science and Technology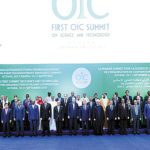 Astana: Moroccan Energy and Nuclear Physicist Rajaa Cherkaoui El-Moursli was honored for her contribution and noteworthy achievements in science and technology, during the Organization of Islamic Cooperation's (OIC) First Islamic Summit on Science and Technology, held in the Kazakh capital of Astana on September 10 and 11. Distinguished by her scientific achievements in the field of nuclear physics, El-Moursli was honoured by the OIC along with four other selected scientists: Yusuf Yagci (Turkey), Mohammed-Slim Alouini (Tunisia), and Assan Jaye (Gambia).The Astana gathering, which aimed to shed light on scientific and technological issues, innovation, and scientific research, was attended by many heads of state, parliamentarians, government officials, researchers, and experts from Muslim countries, who shared their knowledge and experiences at the event.
The summit, designed to encourage scientists in Muslim countries, is the first of its kind which brought together government officials to discuss science and technology and decide the agenda of innovation and scientific research for the next decade.