IRCICA to Restore 370,000 Manuscripts in Mali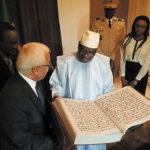 Bamako: The Istanbul-based Research Center for Islamic History, Art and Culture (IRCICA) has signed a collaboration agreement with the government of Mali in efforts to protect the Islamic cultural heritage in the West African nation, Daily Sabah reported. "We will collaborate with the government of Mali to restore 370,000 manuscripts that were in possession of prominent families of Mali and cultural institutions and that were taken to Bamako, the capital, from Timbuktu during the war," said Associate Professor Halit Eren, the IRCICA director general.
"We will also assist the process of transferring these manuscripts to the digital platform." he added.