Islamophobia Helps Strengthen ISIS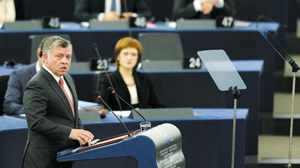 Strasbourg: Jordan's King Abdullah stated that Islamophobia helps strengthen the Islamic State of Iraq and Syria (ISIS). Addressing the European Parliament in Strasbourg, France, the king said that extremists exploit conflicts to build their legitimacy and that his country will defend its people and faith against the extremist group. The leader also said that unity is crucial in the fight against terrorism and that ISIS is not only a threat to Iraq and Syria, but also to the Middle East and the entire world.
King Abdullah, who expressed sorrow for the Christian minorities that were targeted by ISIS, said that the targeting of minorities in the region is a crime against humanity. Recently, the group beheaded 21 Egyptian Christians in Libya and kidnapped over 90 Christians in Syria.