Muslim Woman Crowned "Great British Bake Off Queen"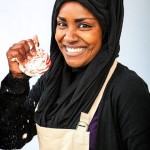 London: A British Muslim woman has been crowned as 'Great British Bake Off' queen after beating her two male competitors, defusing the negative stereotypical discourse surrounding Muslim women. Nadiya Jamir Hussain, won the judges' praise with her iced buns and lemon drizzle wedding cake.
Naming Nadiya "Star Baker", BBC1 judges stressed that she deserves to win. "I am really proud of Nadiya, not so confident to start with, but over the weeks she has grown in confidence," presenter Mary Berry told Mirror." Nadiya, who is of Bangladeshi origin, feared being dismissed by viewers before the semi-final because of not being a stereotypical British person.