Muslims in Bromsgrove, UK, Honour Weekly Magazine Editor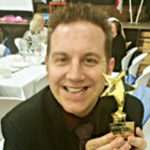 Worcestershire, England: A Muslim community group in Bromsgrove town in UK has honoured a weekly magazine editor in recognition of services to his locality, Hold The Front Page news reported. Tristan Harris, who edits the Bromsgrove Standard, was given the accolade at the Bromsgrove Muslim Community Trust's first ever awards ceremony. During Tristan's tenure, the Standard has worked with the Trust on several occasions, most notably previewing and reporting on the group's annual Eid celebrations and other events. The newspaper also promoted and covered a special multi-faith remembrance service, organized by the Trust, in memory of the victims of November's Paris terrorist attacks. On his award, Tristan said: "It's fantastic we have been recognized in this way by the Bromsgrove Muslim Community Trust, which we have a great working relationship with. Tristan, 39, started on the newspaper as a trainee reporter in 2001 before progressing to its editorship in 2005, via the roles of reporter, chief reporter and deputy editor.
He received the award from Bromsgrove Muslim Community Trust representative, Dr Sabiha Azmi at a ceremony held at council house in Bromsgrove.