Solidarity for Australian Muslims in Common Prayer after Sydney Siege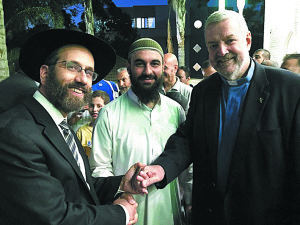 Sydney: Several mosques in Australia held a joint prayer session from followers of all religions for unity and fight against racism, and the peaceful end to the hostage episode in a café, Lint chocolate, in Martin Place Square downtown Sydney, by an armed man.
Tony Burke the Australian federal member of Parliament declared in a gathering held at the Grand Mosque in Lakmba area west Sydney city last fortnight, for solidarity with the Muslim community in confrontation of challenges and racist harassment. The Grand Mufti of Australia, Dr Ibrahim Abu Mohammed said in a statement, "The Australian Council of Imams condemns the criminal act and these actions are reprehensible and totally unacceptable in Islam. Martin Square is the central business district of Sydney, New South Wales, and has been described as the "financial heart" of Sydney as it includes several important buildings, such as the governor of the state office, "New South Wales" Mike Byrd's and the Australian Federal bank, as well the Australian television channel Number Seven, in addition to the American Consulate and a number of banks.