Syed Soharwardy Issues Fatwa against ISIS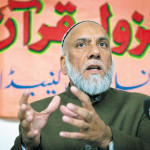 Canada: Imam Syed Soharwardy of Calgary has issued a religious edict, or fatwa, against the Islamic State of Iraq and Syria (ISIS) and its recruitment efforts in Canada. Soharwardy is head of the Calgary-based Islamic Supreme Council of Canada, a group he founded in 2000. He is also the founder of Muslims Against Terrorism and has worked to prevent the radicalization of youth in Canada. He says that what ISIS teaches its followers, violates the Qur'an. "It is based on their own political ideology and it is based on greed or temptation to control the area," he said.
Soharwardy's fatwa was supported by 38 imams. However, he said threats of retaliation are making some Muslim leaders reluctant to speak out against ISIS. "In my opinion I am doing the right thing standing up against this evil which is not only disturbing the peace of the world, but is also responsible for killing thousands of Muslims and non-Muslims around the world," he said.