Muslim Council of Britain Celebrates Strength of Diversity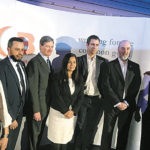 London: The Muslim Council of Britain (MCB) celebrated the strength in uniting for the common good, with civil  society leaders, interfaith, politics, business and the community at its eighth Muslim Leadership Dinner recently. In his welcome address, Secretary General of the MCB, Harun Khan spoke about the theme for the evening, 'More in common,' and about how "in this current political climate, it is important we come together to affirm our unity. When it comes to public policy, we Muslims seem to be boxed into the narrative of bombs, beards, and burkhas. Instead, we Muslims insist that our story is one of faith, freedom, and fairness. It is of our faith where we are obliged to know one another and help one another." In the Qur'an, we understand that we live in a plural world when God tells us that he has made mankind into "nations and tribes so that they may come to know one another".
The Muslim Council of Britain is the UK's largest Muslim umbrella body with over 500 affiliated national, regional and local organizations, mosques, charities, and schools.