Bird Named after Salim Ali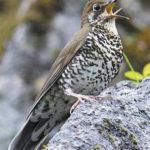 Almost 30 years after the demise of Dr. Salim Ali, the birdman of India, an international group of ornithologists named a newly discovered species after him, thus paying homage to the man who shaped generations of ornithologists and also contributed to the better understanding of birds. The Himalayan Forest Thrush, Zoothera salimalii, is the name of the species, which has been spotted in north eastern India and adjacent parts. The research team that identified the species included scientists from Sweden, India, China, the U.S., and Russia.
Earlier, a bat species, Salim Ali's fruit bat that was first collected from Western Ghats region of Theni district, Tamil Nadu, was named after the legendary ornithologist.