In Remembrance of a Great Lady – Begum Bilkees Idris Latif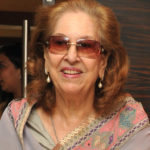 By Mohammed Saad Farooqui
With the recent passing away of Begum Bilkees Latif, Hyderabad has lost an eminent person. I knew from a long time that she had been unwell and had been painfully suffering from cancer. Begum Bilkees Latif was a very versatile, much appreciated, yet a humble person. She was a woman of great strength and inner beauty. Born into a Jagirdari Nawabi family, she was the daughter of Nawab Ali Yawar Jung and Alys Iffring, a lady of French origin. Nawab Ali Yawar Jung had served as a Vice-Chancellor for Osmania and Aligarh Muslim University and also as the Governor to the state of Maharashtra. Begum Bilkees was married to former Air Chief Marshall, Idris Hasan Latif, who also served as the governor of Maharashtra and later as the Ambassador to France. Bilkees Latif spent much of her time towards the upliftment of the poor in the slums of Dharavi –Mumbai and was awarded by the Padma Shree in 2008 for her instrumental work and contribution towards women's rights and child education. The society of Human Environmental Development (SHED) was one of her first charitable organizations.