Obituary – Rajindar Sachar, Crusader for Human Rights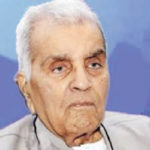 Rajindar Sachar, former Chief Justice of the Delhi High Court, passed away on 20 April, he was 94. His cremation was attended by many of his admirers, as he was a man who always stood by principles and who remained an indefatigable crusader for democratic and human rights. Sachar was known for his honesty and courage, and worked for the freedom of press and the independence of the judiciary. He, however, became known for the Sachar Committee report that documented the status of the minorities in contemporary India. The report brought to light the abysmal situation the Muslims are in, both in terms of education and employment. The Sachar Committee recommendations aimed to promote the inclusion of the minorities in India and became a landmark in the debate on the status of Muslims in India.
Born in Lahore on 22 December 1924, Sachar's father was freedom fighter Bhimsen Sachar, who later became the Chief Minister of Punjab. Sachar studied law in Lahore, where along with his classmate and close friend Kuldip Nayar, he imbibed the spirit of the freedom struggle Sachar was also appointed the Chief Justice of the Sikkim High Court. He is survived by his son Sanjiv, daughter Madhavi and three grandchildren.