Scholarships by Aasra Women's Helpline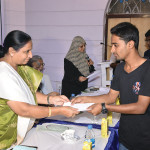 Bengaluru: Aasra Women's Helpline distributed scholarships to around 200 students on September 12 at an impressive function attended by Mr. Roshan Baig, Minister for Information, Urban infrastructure and Hajj, at Eidgah e Jadeed, tannery Road. The students included nearly 130 girls and 30 handicapped students in 70 college students. Ms. Bilkis Banu, Chairperson, Karnataka State Minorities Commission, said Aasra is doing yeoman service in counseling and rehabilitating women in distress. She stressed the need for providing Aasra a larger premises to shelter women in distress and wanted such centres to be opened in every district. Sajida Begum, Secretary of Aasra and Tanzeemul Mohsinath introduced the work being carried out by the two organization.
Prof. Y. Azeez Ahmed, Director, Quwathul Islam Group of Institutions, Mr. Nayaz Ghori, and important social workers attended the function. Cheques amounting to a total sum of Rs. 4 lakhs were distributed by the dignitaries.