The organization was originally founded by Khan Abdul Ghaffar Khan who was an ardent follower of Mahatma Gandhi.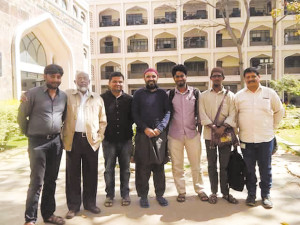 15
By A Staff Writer
Bengaluru: Khudai Khidmatgar (literally 'Servants of God') was formed in Karnataka on February 5, the 125th birth anniversary of Khan Abdul Ghaffar Khan, the veteran freedom fighter and follower of Mahatma Gandhi.
Veteran Gandhian H. S. Doreswamy who inaugurated the formation of the Khudai Khidmatgar, said Hindus, Muslims and all other communities should come together by keeping aside all their differences. He said non-violence was a powerful tool and Mahatma Gandhi defeated the British Raj only through his weapons of satya (truth) and Ahimsa (non-violence). Doreswami advised that the members should not mix religion with politics.
Mr. Srinivasaih, Chairman, Gandhi Smark, Bengaluru,said Gandhi was a lovable person and non-violence was nothing but loving everybody. He said Mahatma Gandhi wanted the Hindus and Muslims to live together and opposed the Partition.
Corporator Prof. Nazneen Begum said, India was beautiful because of its people and hoped that the regeneration of Khudai Khidmatgar will bring the people together.
Introducing Khudai Khidmatgar, organizing secretary Sajid Hussain Munawwar said that the organization was originally founded by Khan Abdul Ghaffar Khan who was an ardent follower of Mahatma Gandhi. He said Abdul Ghaffar Khan opposed the Partition of India till the last moment. People of North West Frontier Province (Suba Sarhad) backed him to the hilt. Even when the NWFP went over to Pakistan (due to the reason of territorial contiguity), he remained a follower of peace and non-violence, the principles of the Mahatma. He said Khudai Khidmatgar was revived in Delhi in 2011 by one Faisal Khan after a long period of dormancy.
Inamul Hassan, a National Council member of the Khudai Khidmatgar, said the organization has now 12,000 members and has branches in 14 states.
For member ship contact: Sajid Hussain, cell: 98457-58298, 95516-66386, [email protected]
The Khudai Khidmatgar Oath
"I wish to be a Khudai Khidmatgar and do hereby declare the following:
I am a servant of God and as God needs no service, serving his creation is serving him.
I promise to refrain from violence and from taking revenge.
I promise to forgive those who oppress me or treat me with cruelty.
I promise to treat every human being as my brother/sister and friend.
I promise to refrain from anti-social customs and unlawful acts and practices.
I promise to devote at least four to five hours per week to social causes.
I promise to live a simple life, to practice virtue and to refrain from evil.
I will not become a member of any violent organization.
I will never desire any reward whatsoever for my service.
All my efforts shall be to please God and not for any show or gain and shall try my best to be a good Indian at all times.