Dr. Noor Ezzat Fatairji – First Saudi Woman Vet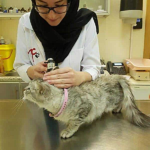 Dr. Noor Ezzat Fatairji is driven by her passion for veterinary medicine..
Dr. Noor Ezzat Fatairji is Saudi Arabia's first woman vet. She says that ever since she was a child, she loved watching documentary programs on wild animals which contributed to her love for adventures and exploration. It was then that she decided to study veterinary medicine. Her journey to achieve her dream of studying veterinary medicine was not easy. The absence of veterinary colleges for girls in Saudi Arabia pushed her to pack her bags and travel to Jordan. She completed her studies amid many challenges and difficulties until she received her bachelor's degree in veterinary medicine and surgery from the Jordanian University of Science and technology in 2016. Her passion for veterinary medicine led her to practice at the Al Areen Nature Reserve in the Kingdom of Bahrain to perfect her skills with additional experience with wildlife. She stresses that as long as there is ambition and determination,  Saudi women can succeed anywhere. Dr. Fataijri says that she is proud of her job, hoping to contribute to this field like her predecessors.