How Honey Makes Money for Afghan Women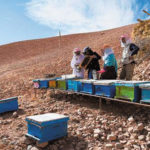 "I make my money for me," declares Afghan beekeeper, Jamila. Her small honey-making business provides her an income. In the mountainous central province of Bamiyan, one of the country's least developed regions, beekeeping complements its only other commercial crop, potatoes, and gives rural women the chance to become entrepreneurs. Four beekeeping cooperatives have been set up here in recent years. Starting from scratch, they now employ around 400 people, half of them women, and produce 14 tonnes of honey a year. Jamila got her start a year ago, thanks to her neighbour, Siamui, a pioneer of the cooperative five years ago who gave her the first bee colony."It was in April and I remember that day perfectly. I was so happy: when I was done with my housework, I could spend the whole day watching my bees and how they work!" she confesses, making the other women around her laugh.
This cooperative has collected about 400 kgs (880 pounds) of honey this year, according to its supervisor Habitullah Noori. Jamila is a grandmother whose children have left the home; Siamui is raising eight of her own; Siddiqa, an orphan, takes care of four brothers and sisters. Each of them maintains one to four bee hives on an average — the few thousand Afghanis earned, supplements their household incomes. "I can pay for the bus when I want to visit my daughter, I can buy her chocolate," says Jamila. "I can buy notepads for the kids," adds Halima, who is in her twenties, with two children.