Saudi Arabia's First Woman Tour Guide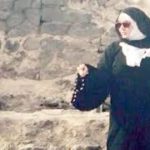 Jeddah: Saudi Arabia's first woman tour guide is hoping she can inspire women in the Kingdom to follow in her footsteps. Maryam Al-Harbi was recently named as best tourist guide for 2017 by the Saudi Commission for Tourism and National Heritage (SCTH), which praised her work to improve services available to visitors to the Kingdom. Al-Harbi told Arab News that tour guides have a "major role to play in introducing the country to newcomers. The tour guide is an ambassador who conveys the country's culture and heritage to tourists and acquires other cultures in return."
She said her earlier studies in archaeology helped her develop a passion for historical stories and inspired her to become a tour guide. "The (tour guide) profession at one time was reserved for men in Saudi Arabia, but some women's delegations wanted to have female guides," she said. Al-Harbi said that "besides Arabic and English language, I speak Turkish and now am working on improving my Chinese language skills." She now guides visitors to Madinah, including private delegations, school students and university groups, as well as Umrah and Hajj visitors, and helps delegations visiting the provinces of Ola, Madain Saleh, Khyber and Badr.