Women Take a Lead in UAE's Space Missions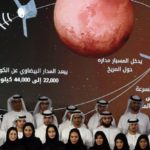 Five years ago, when engineer Amel Amin joined the Mohammed bin Rashid Space Centre in the UAE, there was only one female engineer employed there. But, fast forward to today, more than 80 per cent of applications received by the centre are from women. Women are taking a lead role when it comes to engineering and contribution to the space industry in the UAE, Amin says. Amin said that the centre received more than 80 applications this year from university students who were looking to join them and 75 of those applying were women.
Amin also pointed out that of the 15 university students who currently work at the MBRSC, 11 are women. "I think this reflects what you see in universities these days because more girls are graduating in engineering than males," she said. The MBRSC looks after the space projects taking place in the UAE, including the country's satellites – DubaiSat 1, DubaiSat 2, Nayif-1 and Khalifa Sat.The rise of women in other areas of the space industry is also visible at the Emirates Mars Mission (EMM) programme. The EMM project manager OmranSharaf says that women are playing a "vital role" at the programme. "When you look at the role of the women in the Emirates Mars Mission, they play a vital role. More than 40 per cent of our team members are women," he said. The EMM aims to launch an unmanned spacecraft to Mars by 2020 to study the planet's atmosphere and climate.