"Behind Picket Fences" is a heart- wrenching tale about the complexities of familial and neighbourly relationships.
Behind Picket Fences
By Hend Hegazi
FB Publishing
San Clemente
Year: 2016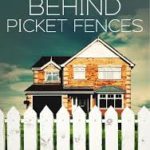 By A Staff Writer
Having good neighbours is a big blessing. Knowing your neighbours well is a blessing, too. Over the years, the concept of "knowing your neighbour" seems to be fading out. With "individualism" and "independence" becoming the hallmark of increasingly popular lifestyles, the culture epitomized by peeping over your neighbours' fence to say 'hello' and to find out if all is well with them or calling them over for a cup of tea is fast vanishing.
Amidst this scenario, Hend Hegazi has woven together life-stories of four families, neighbours of each other, who all seem "fit and fine" on the outside, but are facing challenges of different types inside their homes. She presents a very realistic portrayal of the day-to-day routines of these families, combined with the turmoil they face and the masks that people wear when relating to others. Each character, whether Christian, Muslim or agnostic "" deals with the messiness of life as best they can.
Sharing the same neighborhood, even spending time together, no family knows the truth about the difficulties the others face. On the outside, Sidra and Farris have the biggest house and the most expensive cars. What no one sees is their struggle to accept an unfulfilled dream. Mariam and Morgan's modest home exudes the rich scent of family. With children playing in the yard, they seem picture-perfect. But financial struggle is their continuous battle. Summer and Porter enjoy youth and the freedom of self-employment. But discontentment and mental instability linger between them. May and Hasan enjoy peace and true happiness. But they face their own challenges.
An honest portrayal of love and family, Behind Picket Fences opens our eyes to the difficult truths hidden behind each happy façade. While the narration is gripping, the ending seemed a little abrupt. It might have made for a better story if the author had presented a concluding summary about the four families.
That said, this book is a good, easy-to-read portrayal of the everyday reality of people's lives. It makes you think about your own neighborhood and reflect on the fact that behind that smile of your neighbour, there lies some sorrow or turmoil, just as it is with you. One never knows really till one really gets to know one's neighbours well!
Hend Hegazi was born and raised in Massachusetts, USA. She graduated with a degree in biology and a minor in religion. Shortly, thereafter the winds of life and love blew her to Egypt, where she has been living for the past several years. She is a full-time mother of four as well as a freelance writer and editor. Her fiction and poetry focus on the human condition, often shedding light on the Muslim American experience. Hend strives to be God-conscious and aims to raise that awareness in her readers. As a common theme in her pieces, the intimate relationship between God-consciousness and love is often explored. Her poetry and other writing can be found on her website, www.hendhegazi.com