The book's endearing conversational style and its wonderful illustrations add to its inspirational message to make it eminently suitable for almost every age group, from 6 to 106!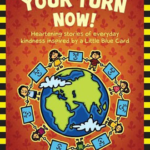 Reviewed by Roshan Shah
Launched around a decade ago, 'Your Turn Now!' (YTN) has blossomed into a movement inspiring many people to engage in acts of kindness in their everyday lives. It has touched tens of thousands in India and abroad, from different social classes, communities and age-groups.
Rushabh Turakhia is the spirit behind YTN. It all began some years ago when an uncle of Rushabh's met with an accident and was taken to a hospital in an auto-rickshaw by a lady who was passing by. The lady stayed with Rushabh's uncle till his family arrived. When they saw him in good hands they were relieved. They tried to find some way of rewarding the lady for her kindness, but she simply said, "If you are kind to someone else in need, that would be thanks enough."
Chain of Good Deeds
Rushabh couldn't stop thinking about this incident. The lady's generosity was very inspiring. And then an idea took root in his mind""do a good deed and in return request the person you helped to perform a good deed for someone else. This could be made into a chain of good deeds that impacted thousands of lives as one good deed passed from one person to another! From this vision emerged the YTN movement.
The way YTN works is this: when you do a good deed to someone (whether a person you know or a stranger), you can tell them that they can do a good deed to someone else in return. You present him or her with a little YTN card, which says: "Someone did a little nameless act of kindness that touched your heart. It's now your turn to multiply this feeling. Be there for someone and pass on this card."
It is as simple""and as profound""as that!
Thoughtful and Compassionate
Reflecting on why he started YTN, Rushabh explains, "I see a lot of unkindness around […] The human race is referred to as 'mankind' but somehow the word 'man' and 'kind' have got separated. So I started this movement to encourage people to be thoughtful and compassionate."  YTN, he tells us, "is spreading like a 'kind-fire'…it has travelled across the globe, spreading smiles among at least 90,000 people. The number of generous acts done by people is beyond one's wildest imagination. Some of the stories bring tears to my eyes."
Corporate Social Responsibility
YTN has been spoken about at schools and colleges, where students have been inspired to be kind. Some schools plan to include it in their curriculum. YTN has also been presented to various NGOs. Some corporates use it like a Corporate Social Responsibility initiative and as a way of building a happy, unified team.
"The movement has changed me too!" Rushabh says. "It's been an amazing journey for me since 2009. All of a sudden, I have been meeting and getting associated with so many beautiful souls who want to make a positive difference to this planet. Deep inside, everyone wants to do good social work but their priorities are different or they can't find the time. However, YTN has become an ATM of kindness from where you can spread smiles every time you want to."
This wonderful little book highlights just some of the many amazing stories of kindness that YTN has enkindled over the years.
Mr. Kapoor dropped off his young son for maths tuition, but it turned out to be a wrong lane. A man found the distraught child, and called up and informed Mr. Kapoor about what had happened. He waited with the child till Mr. Kapoor arrived. Touched by the man's kindness, Mr. Kapoor asked how he could repay him. In response, the man gave him a YTN card to tell him that someone was kind to him and that it was his turn to pass on the kindness, along with the card, to someone else!
Farah took her maid to a confectionary to buy a cake for her son and then gave her a YTN card, explaining what she could do with it in turn!
Dinshaw received a YTN card from someone, which inspired him to donate blood!
Stella from Finland was visiting New Delhi and found herself surrounded by taxi drivers trying to cheat her. A man came around to fix a fair price for her and handed her a YTN card!
Hanz and Fritz, tourists from Germany, got a YTN card in Jaipur from a girl who gave them a lift in an auto-rickshaw!
Rajesh was travelling in a bus and gave the conductor a big note for his ticket. The conductor didn't have change, so Rajesh requested him not to charge the next ten people who boarded the bus and to cover the fare with what he owed him. He gave the conductor ten YTN cards to give these passengers!
Salma was on a train on a winter morning and saw a woman hug her little child close. The girl was very cold, and her mother was trying hard to keep her warm with her dupatta. Without a second thought Salma took off her shawl and gave it to the woman and insisted they keep it and got a great way to use the YTN card!
Making the   World a Better Place
Protima was standing in a queue at the checkout counter at a mall with a trolley full of groceries. She noticed that the lady behind her had only two items. Although she wasn't asked to, she moved aside and let the lady check out before her. And she gave the lady a YTN card, to inspire yet another act of kindness!
Each story in the book is practical and so can be adopted in our daily life to spread the message of thoughtfulness, generosity and compassion. Not everyone is called upon to do 'great' deeds of social service or to spend a lot of time and money on such work. Such 'little' acts of kindness done with much love as this book recounts can be our way of making the   world a better place, one good deed at a time! Instead of bemoaning the way the world is going, we can do something very practical to improve things by a 'little' act of compassion each day!
The book's endearing conversational style and its wonderful illustrations add to its inspirational message to make it eminently suitable for almost every age group, from 6 to 106! 
(For more information about YTN, seewww.yourturnnow.in You can write to them for YTN cards""which come at a cost: the cost of a promise""a promise to do one worthy deed for each card!)