Seeking Communion: A Collection of Conversations
Joseph Victor Edwin SJ
Indian Society for Promoting Christian Knowledge, Delhi, and Henry Martyn Institute, Hyderabad
181 Pages
2018, Rs. 250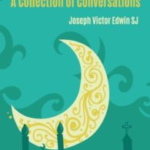 Reviewed by Roshan Shah
The title of this book does not give you much indication of what it is about (communion between whom? And conversations about what?) ""and for that reason you might skip the book if you spotted it in a bookshop. But please don't! Despite its bland title, it contains many precious bits of wisdom. It is a collection of interviews with a number of people from across the globe, focussing on religion (particularly Islam and Christianity), religious identity, interfaith and inter-community relations, conflict-resolution and peace-building""matters of particular contemporary importance.
A Catholic priest with a Ph.D. in Islamic Studies who teaches Islam and Christian-Muslim relations at Vidyajyoti Colllege of Theology, a leading centre for higher Catholic learning based in Delhi, the compiler of the book, Joseph Victor Edwin,  is well qualified for the task he has taken up. He has put together interviews with 25 people (24 men and 1 woman) from different parts of the world who are engaged, in different capacities, in trying to promote dialogue, understanding and peace among people who follow (or claim to follow) different religions. (Presumably, Edwin has conducted these interviews himself, but the book doesn't say this).
Improving Christian-Muslim Relations
One major focus of work for many of the interviewees is promoting better relations between Christians and Muslims. The interviewees include academics, social activists and priests. Some are Muslims [all Sunnis, it seems], while the rest are mostly or entirely Christians [the majority of them Catholics]). They are based in different countries in Asia, Europe and North America. They include a madrasa-trained Muslim scholar who teaches Islamic Studies at a university in India, a Christian priest from Pakistan with many years of engagement in efforts to improve Christian-Muslim relations, the advisor to the General of the Jesuits on Jewish-Muslim Relations, a scholar of Arab Christian writings, a Jesuit who teaches in Jerusalem (among other places), a professor of Church History and Spiritual Formation at a university in the USA, the Bishop of Aleppo (in war-torn Syria), a Jesuit from the USA who was entrusted with the responsibility of exploring ways to restore the Jesuits in Iraq, the Director of an institute of Oriental Studies at a Lebanese university and a Catholic priest of German origin who teaches philosophy in Jakarta. Some of the interviewees work mainly at the, scholarly level while others are engaged in 'grassroots' level activities.
No matter what their geographical location or professional background, the interviewees are all concerned with promoting inter-community harmony. In their interviews they dwell on their own understandings of religion in the context of, among other issues, questions of religious pluralism and interfaith relations. But this book isn't just about theology.  Many of the interviewees also share""and this really adds to the book's value""some of their personal experiences of interacting and engaging in dialogue with people of other faiths.
Bridge-Building
Some of the crucial issues that the book deals with are: how faith in and commitment to a particular religion can go along with respect for other religions and their adherents; the contemporary importance of interfaith and inter-community bridge-building; varied purposes and forms of interfaith dialogue and collaboration; religion as a means for promoting peace, as opposed to its misuse as a vehicle for fomenting conflict; theological arguments to counter radicalism in the name of religion;  the need for rethinking religion in a contextually-relevant and spiritually-elevating manner, firmly foregrounding the issue of peaceful relations with people of other faith  backgrounds; and religious identities and related issues of exclusivism and supremacism.
The light, conversational manner of the interviews, all geared to seeking interfaith communion, makes for easy reading. In the context of horrific conflict in the name of religion in large parts of the world today, this book is a precious gift, reflecting an enduring hope for peace.