By M A Siraj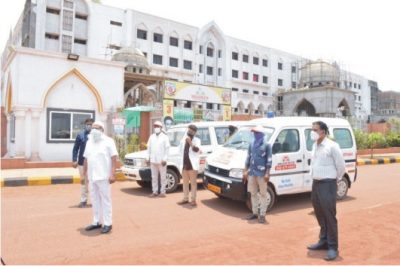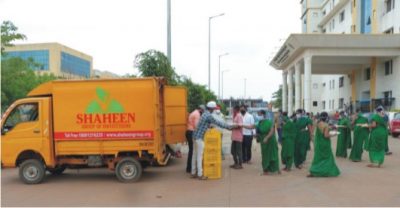 The Shaheen Group of Institutions in Bidar opened its Shaheen Covid Care Centre on June 3. The 30-bed facility has been set up in the group's hostel building on Mailur Ring Road. Maulana Abdul Ghani Khan, president of the Jamiatul Ulema, Bidar inaugurated the centre.
The Mercy Mission from Bengaluru gifted 30 oxygen cylinders and 30 concentrators for the purpose. Dr. Abdul Qadeer, Chairman of the Shaheen Group, said that Dr. Abdul Jameel is heading the centre with several nurses. The centre has acquired two ambulances for bringing the patients who provide free service. The centre has also put in place a virtual clinic for a home consultation. Around 66 doctors who formerly studied at the Shaheen institutions and are now working in various hospitals in the town after attaining MBBS degrees provide medical advice on the phone.
The group inaugurated its Community Kitchen early last month in Bidar to provide free, hygienic vegetarian food to the needy for lunch and dinner. The kitchen is currently supplying 2,500 meal packets containing rice, roti, curry, daal, and curd to the needy, those isolated and quarantined at homes, duty staff in government hospitals, on-duty policemen, those deputed on check-posts and 60 families residing in the Raj Ground Colony. Two delivery vans carry the food to those who book the meals on the helpline and 20 two-wheelers. The kitchen is fully mechanized from cleaning the ingredients, cutting the vegetables, steam-cooking the rice, and a mechanical roti maker. Around 35 personnel, mostly women, work for 16 hours a day in two batches to prepare the meals packed in plastic trays with lids before being dispatched to the needy.
(Extracted from an article in siasat.com)