Turkish Style Mosque Consecrated in Bengaluru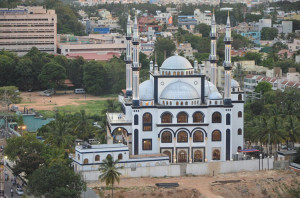 Bengaluru: The Turkish style 'Masjid Eidgah Bilal' on Bannerghatta here was consecrated on June 11. The mosque sits on the corner of a traffic intersection on a popular thoroughfare of Southern part of the city. Prestige Group of developers undertook the construction which began in 2010 and was completed recently. The mosque constructed at a cost of Rs. 20 crore provides space for 6,500 namazis to pray at a time. A considerable portion of the cost was contributed by the Prestige Group.
The 4-storey mosque has been constructed on a portion of the 1.45-acre Bilal Eidgah. The land was purchased in 1980 for the purpose of Eid congregation ground at a price of Rs. one crore from the Bangalore Development Authority. Local MLA and later minister Ramalinga Reddy helped the community acquire the place. Secretary of the Masjid Committee Amjad Hussain told Islamic Voice that the mosque occupies nearly 42,000 sq. ft. area. The Eidgah ground provides parking space for nearly 500 vehicles. The mosque was designed by Mr. Sajjad, architect associated with Prestige Builders. Maulana Abdur Razzaque is the imam of the mosque. The consecration ceremony had Maulana Qasim Qureshi as the chief guest.