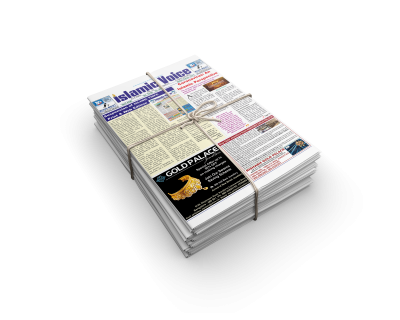 The summer of 2020 will remain unforgettable globally, when much of the world went into a 'lockdown' due to the Covid-19 pandemic. The pandemic affected the smooth functioning of Islamic Voice, too. The magazine, that had shone like a star in the media skies for 34 long years, starting in 1987, came to a temporary halt. After the April 2020 issue of the magazine was out, the doors had to be shut down. The lockdown had a serious impact on the magazine financially, emotionally and in other ways.
The monsoon of 2020 brought some coolness into the hearts and minds of our readers. They began missing the familiar folded magazine landing in their letter-boxes every month. By the winter of 2020, we began receiving letters of encouragement, such as you see in this issue of the magazine. Slowly, the foggy air of despair began to clear.
While we thought of resuming Islamic Voice as an online publication, some of our wise old readers still preferred a printed magazine reaching their hands. They felt a big vacuum without the magazine, which had provided them intellectual, social, and spiritual insights. While we are not blowing our own trumpet, it is a fact that some of our readers had grown up reading Islamic Voice, and generations following them followed their practice. So, for them, the magazine had become a sort of 'family member'!
Now, in the summer of April 2021, with many of our readers encouraging us to restart Islamic Voice (both, the printed and the online editions), we have decided to revive the magazine, starting with this issue which is in your hands.
We hope to have articles from many different writers, who can bring diverse perspectives on a broad variety of issues, focussing especially on God-oriented spiritual living. We hope that Islamic Voice will help all those who read it gain hope and grow in positivity. We wish to stay out of sectarianism, party politics, the victimhood syndrome, controversial issues, and negative thinking. We do not want to serve stale food for thought to our readers, be it news reports that are a month old or social media forwards. We would like to be more of a view's magazine, providing insights and guidance that can help shape people's minds and lives in a positive direction. We hope to specially focus on universal spiritual values, positive thinking and practical guidance for people. Our magazine should focus on issues of general concern and the common social good. We hope to highlight perspectives that will be found to be of value for all people. True spirituality is universal. The One God is the Creator and Sustainer of all beings. Accordingly, we need to care about the wellbeing of all beings—and this, we hope, will be reflected in the pages of Islamic Voice.
We thank all those who have lent us their moral and intellectual support that has helped revive Islamic Voice. We would like to remember these words from the Holy Quran (65:2-3):
And whoever is mindful of God, He will make a way out for them, and provide for them from sources they could never imagine. And whoever puts their trust in God, then He alone is sufficient for them. Certainly, God achieves His Will. God has already set a destiny for everything.
The following excerpt from a poem by Robert Frost beautifully describes the journey of Islamic Voice from its inception, in 1987, till today:
Two roads diverged in a wood, and I took the one less travelled by,
And that has made all the difference!
Come, do please join us on this journey!