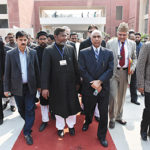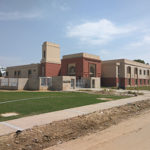 By A Staff Writer
Aligarh: The first phase of Frank and Debbie Islam Management Complex was inaugurated by Dr. Frank Islam and his wife Debbie Islam at the Aligarh Muslim University on February 12. The complex has been constructed at a cost of Rs. 20 crore and will serve as the Faculty of Management Studies and Research. The new complex is being constructed over an area of three acres in Sir Syed House complex. Synchronising with the function, Dr. Frank's book, Frankly Speaking was also released.
Dr. Frank is an alumnus of Aligarh Muslim University who has been a businessman in the United States for the last four decades. Dr. Islam serves on many boards and advisory councils including: the John F. Kennedy Center for the Performing Arts, the Brookings Institution, the Woodrow Wilson Center, Johns Hopkins University, and George Mason University. He provides financial assistance to civic, educational and artistic causes and groups.
Dr. Frank said the emphasis on the management studies to be taken up at the Complex will be on entrepreneurship and preparing the students for leadership in the field of business and industry. Aligarh Muslim University Vice-Chancellor Lt. Gen. Zameeruddin Shah was also present on the occasion.
The New Management Complex is a unique alumni-supported venture of Aligarh Muslim University. This project aims at providing state of the art physical infrastructure to the Faculty of Management of Studies and Research, a flagship Institution of AMU. It was conceived during AMU's World Alumni Summit in 2008. Two of Department's alumni, Mr. Ameer Ahamed, and Mr. A. G. Danish, committed seed capital then. AMU allocated 3 acre of land in lush green ambience of Sir Syed House Complex.  The project got a major fillip with generous contribution of $ 2 million (approx 13 crores INR) by Mr. Frank F. Islam, a distinguished US-based AMU's alumnus. This has enabled the University to start work on the ground since May 2015. Since then, the work is progressing fast.
Talking about the AMU Alumni, Dr. Islam said that AMU alumni were spread all across the world and share a common characteristic of technical expertise and moral fortitude and that this trait has enabled AMU graduates to make their mark in the world as positive role models.