The Uniys would have 40% reservation for Girls. Begum Hazrath Mahal Scholarship for Girls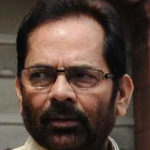 New Delhi: The Union Government has decided to set up five new universities for imparting higher education including medical and engineering courses to students belonging to minority communities, Union Minister Mukhtar Abbas Naqvi announced on December 27.
"We want to establish five universities with world class institutions where higher education including medical and skill development will be imparted as part of efforts to empower minorities. "These universities will have big campuses for residential schools, Ayurved, Unani medical education," the Union Minister of State (Independent Charge) for Minorities Affairs said.
He said the government plans to offer 40% cent reservation to girl students at the "world class institutions" under the proposed varsities, where, he stated, students from other than minority communities can also undertake education.
He indicated that the universities would come up in Haryana, Uttar Pradesh, Rajasthan and any other states where the State Governments may be able to provide large plot of land.
Naqvi was speaking to reporters after chairing a meeting of general body of Maulana Azad Education Foundation, he said the Ministry has approved 16 Gurukul-type schools in Telangana, Andhra Pradesh, Karnataka and Jharkhand.
On whether the varsities will hold minority tags, Naqvi said, "The committee will work out details and decide. But students belonging to other than minority communities can learn there. We will try to give 40 per cent quota to girl students to empower them. It will not be based on religion."
Committee Formed: A high-level 10-member committee has been formed to identify the places where universities would be set up and will also work out roadmap within next two months. The committee is headed by Mr. Afzal Amanullah, IAS who was earlier Secretary of the Maulana Azad Educational Foundation. Members include Aligarh Muslim University vice chancellor Lt. Gen. Zameeruddin Shah; Prof. Talat Ahmad, vice chancellor of Jamia Millia, Dehi; Dr. Iqbal Hasnain, former vice chancellor of Calicut University; Shahid Siddiqui, former Member of Parliament. The Ministry has also set up another committee to review the financial assistance to madrassas. It has seven members and will be headed by Mr. Syed Babar Ashraf.
Apart from the varsities, the Ministry has, through the Foundation, decided to float 'Gharib Nawaz Skill Development Centres' across the country. The meeting also decided to offer 'Begum Hazrat Mahal' scholarships to girl students. Besides, students undertaking mainstream education at madrasas will also be offered scholarship henceforth to encourage them, he added.
Naqvi said the Ministry has sanctioned 200 'Sadbhavana Mandis' across the country during the last six months. He said nearly three crore students of Minority communities have been sanctioned scholarships during the last two and half years and the money was electronically debited into their accounts.