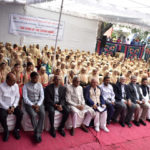 Hyderabad: Three hundred and four meritorious and poor students were presented cheques for Rs. 10,000, a medal and a certificate, all being part of the "Gem of the Nation Award", by the Hyderabad Zakat and Charitable Trust on December 24 at the Begumpet office of the Trust in a glittering ceremony. The award packet also included a Parker pen, a scarf (for girl students), a blanket and books on moral guidance. The Trust spent a total of Rs. 36 lakh on the award and the gifts.
The students were selected for the "Gem of the Nation Award" on the basis of those scoring 93% in their SSC (10th standard board exam). Chief Guest Dr. R. Praveen Kumar, IPS, Secretary, Telangana Social Welfare Residential Educational Institutions Society, emphasized the students to dream big and chase their dreams. For inspiration to the students, he narrated his own biography, as he rose from a labourer's family to a bureaucrat. 
The guest of honor, Mr. A.K. Khan, IPS (Rtd. DGP – ACB), Advisor, Minority welfare, Govt. of Telangana, hailed the awardees and hoped that these "GEMS" would inspire their peer groups. He assured to help those students, who have an ambition to crack Civil Services examinations.
Mr. Mohsin Ali Khan, President, HAWMA, USA, while congratulating the "GEMS" and Trust, expressed his confidence in FEED as a Trustworthy partner for HAWMA, for the dedicated and professional management on the charity activities for upliftment of the underprivileged.
Mr. Ghiasuddin Babukhan, briefed about the activities of the Trust and congratulated the awardees for achieving top rank GPA with their hard work and advised the students to maintain consistency in merits in future to achieve success in life.