Stories of grit, determination and focused efforts galore.
Compiled by a Staff Writer
Fifty one Muslim candidates figured among the total 935 declared successful for the Civil Services competitive exams this year. Credit for the success of several of them goes to the Civil Services Coaching Academy and the coaching institute run by Zakat Foundation of India (ZFI) in Delhi.
It is heartening to note that the Muslim representation has risen to nearly 5.4% among the successful candidates. In the year 2013, a total of 1,122 candidates made it to civil services, of which 34, or 3.03 percent were Muslims. In the list of 1236 successful candidates next year, there were 40 Muslims, including four women, which worked out to 3.2 percent.
In 2015, just 37 Muslims cleared UPSC examinations, with a Kashmiri Muslim Athar Aamir Ul Shafi Khan securing second position out of a total of 1,078 successful candidates. The percentage was just 3.43.
Islamic Voice brings to its readers stories of the successful candidates from various parts of the country. These stories have been mainly translated and summarized versions of the account available at various news portals.
Jameel Fathima Zeba
Zeba who secured 62nd rank in the examinations, urged aspirants to not give up, work hard and be patient.
Hyderabad: Urging Muslim women UPSC aspirants to take inspiration from her, Jameel Fathima Zeba, the first Muslim woman from Telangana to crack the examinations, said that it shouldn't take time for others to secure an equally good rank in the test. Speaking at a felicitation organised by the State Minorities Welfare Department, Zeba who secured 62nd in the examinations, urged aspirants to not give up, work hard and be patient.
Recounting an incident from her time preparing for the test, Zeba said, "I was not at all prepared for tests on optional subjects. Those tests were on the last day of examinations and I hadn't slept the previous day. I could have given up, but I chose not to.""On Friday morning, when I received the mark sheet of the exams, I saw that I fared very well in those subjects and in all probability scored the most nationally," Zeba, said after being presented with bouquets and shawls from well wishers and prominent personalities,
(Source: (www.newindianexpress.com)
Seerat Fatima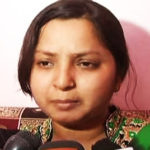 Seerat Fatima has cracked the 2017 UPSC Civil Services exam in her 4th attempt, with a rank of 810th from the list of 990 candidates. However, she now wants to better her rank and plans to reappear in the examination.
A Primary school teacher and daughter of an accountant, Seerat Fatima is one among UPSC achievers. Seerat's father Abdul Gani Siddiqui being an accountant in a government office was hurt by the way bureaucrats treated their subordinates, and it is when he decided that his eldest daughter would become an IAS officer. "All power resides only with officers, I used to think. This is why I wanted Seerat to become an IAS officer", Siddiqui told the local media as per a report by Ummid News.
Despite less salary even to run the household properly, Siddiqui made sure that he got his daughter to study at St. Mary's Convent School in Ghoorpur, which is around 15 km from Allahabad. After completing her graduation and B.Ed from Allahabad Central University, Seerat joined a school. "I started working as a teacher because it was becoming difficult day by day to sustain on my father's salary", she says. Seerat on her return from school every day would prepare till late in the night for Civil Services examination. Meanwhile, Seerat became discouraged and almost decided to quit. "It was during this distressing period, I watched Nawazuddin Siddiqui's Manjhi. The film rejuvenated me and the result is in front of you all", she says.
(www.siasat.com)
Hassan Safin (Banaskantha-Gujarat)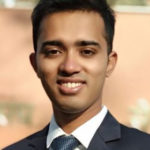 Impressive personality of a Dist. Collector inspired him to dream high.
Hassan Safin is all of 22 and secured the 570th ranking in the Civil Services exam this year. But his score in the Gujarat Public Service Commission is 34th which has got him placement as the assistant registrar in the Gujarat Government. But Safin had pursued the dream of being an IAS office since his childhood. So he will appear for a second time next year and will try for a higher rank which can take him into the IAS cadre. Safin comes from Kanoder village of the Banaskantha district in Gujarat where his father works as an electrician. His mother was employed as a roti-maker at the community kitchen for some time. He secured a B.Tech degree from the National Institute of Technology (NIT) in Palanpur, the headquarters of the Banaskantha district.
Safin got inspired by the personality of the District Collector who visited his village when he was still a school-going child. He asked his auntie as to how he could reach that position. Auntie guided him to appear for the Civil Services and told him that in a democratic country like India anyone could aspire to get any post within the country.
Safin says he hailed from a lower-middle income family which could barely sustain the daily expenditure. But one Hussainbhai Polera from the village supported him to go and get coaching from an institute in Delhi. He received 11-month coaching at a Delhi institute and returned to his hometown to appear for the GPSC exam. Even while going to appear for the exam, he met with an accident and sustained several injuries. Ignoring the advice of hospitalization he appeared for all the papers with only minor treatment.
Safin advises the Muslim youth to develop courage, and self-confidence and look for what the Civil Services want rather than what they expect to achieve. He says the Interview is merely a test of personality, nothing else. He says, the exams and interview for the Civil Services test your merit and have nothing to do with one's religion and caste. He attributes this to India's Constitution which ensures equality before law for everyone and provides equal access to opportunities.
He says he was helped by Ansar Sheikh of Maharashtra in preparation and was in constant touch with several IAS officers. He had opted for the Gujarati literature. Most of the questions posed to him in the Interview pertained to Islam and Gujarati Muslims.
Ilma Afroze (Moradabad-UP)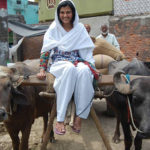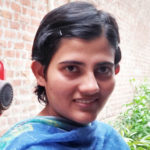 A girl who worked at a farm cracks the exam.
Ilma Afroze is 24 (seen riding a bullock cart in the picture) and is headed to don the cap of a police officer. She has been placed on 217th rank in the list of candidates cleared for the Civil Services 2018.
Coming from a farmer's family, Ilma comes from Kundarki village of Moradabad.
She lost her father 14 years ago. The family still owns five acre of land. But her house is a dilapidated structure. A thatched roof covers her drawing room. The two rooms have virtually nothing by way of furniture. When the scribe from TwoCircles portal approached her for interview, the family had to requisition chairs from the neighbours.
Ilma looks like a simple village girl, but has received her education from St. Stephen's College, Delhi, and later from Oxford and New York Universities on a scholarship from Clinton Foundation.
She lost her father at 14 when she was doing her 9th standard. She says: "My father used to comb my hair. But suddenly the family lost its breadwinner. I cropped my hair short lest they need combing. But I had to work as a housemaid at several homes after the school hours to run the house. Yet nothing deterred me from pursuing my dreams of getting higher education and come out successful in my life. I even supplied water to fields, served fodder to the cattle and harvested crops. My brother advised me to appear for the UPSC exam and sat for the same and scored a rank that would take me to the IPS cadre. Several villagers had discouraged me and taunted me calling me a girl of no consequence. But now I have shown them what I could achieve. Several girls from the village have felt encouraged with my success and gearing up to take the civil service exams."
Her mother Suhaila Afroze attributes her success to the trials and tribulations suffered by her during her days as a student and gives the entire credit to Rabb (God).
T Shahid (Kerala)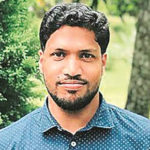 T Shahid, a former madrasa teacher from Kerala, cracked the UPSC examination in his sixth attempt and ranked 693.
By Shaju Philip 
(Thiruvananthapuram)
The civil services exam, Shahid said, was a way to tell the society that madrasas are not a breeding ground of terrorism. "There may be stray issues or controversies, but madrasa students in Kerala can contribute as civil servants also," he said.
Having never had the opportunity to attend a mainstream school, let alone college, after primary school education, T Shahid, a former madrasa teacher from Kerala, has proved that tenacity eventually triumphs. The 28-year-old native of Thiruvallur village, in Kozhikode district, has cracked the UPSC examination in his sixth attempt, ranked 693. Son of madrasa teacher Abdul Rahman Musaliyar and homemaker Sulekha, Shahid said he was forced to opt for a Muslim religious educational institution, run by an orphanage at Kappad in Kozhikode, at age 10 given the financial crisis at home.
After 12 years of religious education and leading a secluded life at the Islamic seminary, Shahid bagged the religious "˜hasni' degree, a course which equipped him to become a madrasa teacher. While studying for hasni, he completed Class X and Class XII, and finally got a degree in English "" all through distance courses.
"From 2010 to 2012, I worked as a madrassa teacher in Kannur for Rs 6,000," Shahid said.
After the degree in English in 2012, for a brief period, he worked at the Malayalam daily Chandrika, managed by the Indian Union Muslim League (IUML). And that's when, Shahid said, his perspective towards life changed "" "I started reading about general issues. The 12-year life at the Islamic institute had made my perspective narrow. But working as a journalist made me look at the world outside."
This was also the time he felt he should try to have a career other than becoming a religious scholar.
(http://indianexpress.com)
Inabat Khaliq (J & K)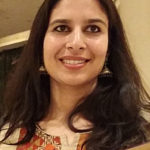 Not satisfied with IRS, she is still in the race for IAS
Inabat Khaliq, hailing from Srinagar has been successful in getting into the list of candidates cleared for Civil Services. But she is keen on trying her luck for the third time to get a better rank which could enable her to get into Indian Foreign Service (IFS). In 2017, she cracked the Civil Services exam and was placed at 604th rank. Not to give up on her goal, she appeared again for the 2018 competitive exams and improved her rank to 378th this year. She is at it again and would be appearing for the same in 2019. She told the news portal Beyond Headlines, "the 386th rank will take me to the Indian Revenue Service (IRS). But my ambition is to get into IFS and serve the nation as a diplomat. I have been a keen student of Literature and learner of foreign languages. Besides, I am basically interested in travelling around the world and interact with people across cultures and geographies."
Inabat's father Abdul Khaliq is a medical doctor and teaches at the Govt Medical College at Srinagar, while mother Mansura Khaliq is a Government School Teacher. She came away to Delhi for Civil Service coaching and attended the classes at the Jamia Hamdard and Jamia Millia Islamia, but concentrated more on self-study which she says is more helpful in clearing the exam. She was successful in her third attempt to get 604th rank which she improved this year to 378th position. One more shot at the target, she says, may deliver her on the life's target of reaching the IFS.
Inabat had selected History, which was her main subject at the degree level. She advises the Civil Service aspirants to select only those subjects which they are good at and ignore opinions that suggest that some subjects lead to high or low scores. She would also advise the aspirants not to hasten their entry into competitive exams. "They should attempt the exam only when they are confident of their preparations as General Category candidates have limited number of attempts at their disposal and they should not waste them.
Ali Abbas (Bahraich-UP)
A bank employee cracks the exam.
Ali Abbas, 29, from Bahraich town in Uttar Pradesh feels that the Civil Services exams could be cleared with sound study of common school syllabus and while remaining engaged in daily chores.
Abbas was able to score 137th rank in the UPSC competitive exams this year. Son of a Government servant and a teacher-mother, Abbas secured a B.Tech degree in Electronics and Communication from the Integral University, Lucknow.
Abbas came to know about Civil Services only while doing his engineering degree course and dashed to Delhi the very next day he appeared for the last paper in 2012. He took a spartan accommodation at Mukherjee Nagar (Delhi University area) and began to prepare for the Civil Services. However, the high daily expenses compelled him to appear for the Banking Services exam and landing the job of assistant manager at Ghaziabad (a city in Uttar Pradesh adjoining Delhi). However, frequent transfers, 8-9 hour job and time spent on commutation, left him with no time for preparation for the Civil Services. He resigned the banking job and joined the coaching academy at the Jamia Millia Islamia in 2017. He is skeptical about his 137th ranking yielding him placement as an IAS officer. He however would feel contented even if he gets the Indian Police Service (IPS) posting.
Abbas advises the Muslim youth to remove any perception of discrimination against Muslims in the selection process for the Civil Services. He says the selection board goes by the performance of the students rather than religion or caste. Merit alone counts.
He also advises the youth to engage in serious studies and not to engage themselves in gossips and chit-chat. He says, he was devoting 2-3 hours daily to study for the Civil Services even during his tenure at the banking and avoided taking promotion, in which case he would have been transferred anywhere away from areas around Delhi. He said easy access to Delhi was his priority as he could reach the resource centres.
Abbas says he would try to infuse people-friendliness among the police cadres in order that the people seek remedies to their woes directly from the police administration avoiding middlemen.