The next time when your teachers or your parents say  that they  want to take you to a museum or a mall or an 'amusement park,' you might want to tell them about a different place you'd like them to take you. It's an organization called 'People for Animals'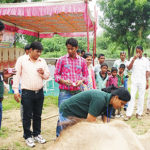 By Nigar
Hi Kids! So, after the winter holidays you are back to school! During your vacations, some of you must have had a good time playing with your pets at home! tsr
Don't you feel sad when your pet (or, if you don't have one, an animal you may see on the road) is not feeling well and is sitting with sad eyes and drooping ears? So, what do you do? You and your parents might take it to an animal doctor, who is called a 'vet', right?
Have you wondered, kids, what happens when animals that you might spot in your town or city that aren't pets, like eagles, kites, parrots, squirrels, jackals, snakes and monkeys, are sick or injured? You do still sometimes find such wildlife in urban areas, though numbers are fast diminishing.
People are so busy, rushing here and there""to office to school, to college""that hardly anyone makes time and takes the effort to help these lovely creatures from the wild when they are in trouble.  But God is great, and He helps all creatures of the universe that He has created.
The next time when your teachers or your parents say  that they  want to take you to a museum or a mall or an 'amusement park' (or whatever it's called!), you might want to tell them about a different place you'd like them to take you. It's an organization called 'People for Animals'. They have branches in many cities in India.
This organization, kids, is doing wonderful work in treating and caring for wild animals that become sick or get injured. People who spot a sick or injured wild animal or bird call up the organization, which then sends someone (sometimes in a special ambulance) to pick it up and bring it over. At the PFA centre, it is treated with great love, and when it becomes fine, they set it free in the forest, which is their home.
PFA was launched in 1992 by Mrs. Maneka Gandhi, who you might have heard of""she loves animals very much. It now has more than 200 branches across India. The Bangalore branch of PFA was established in 1996, and has a shelter-cum-hospital in Kengeri, on the road leading from Bangalore to Mysore. If you drop in there, you could get to see many different animals and birds from the wild that are being taken care of.
Remember when sometime you might have developed a fever, how your mumma made a special hot dish for you and then tucked you in bed so lovingly, and you got well very soon! In the same way, many little animals and birds are taken very well care of by the uncles and aunties at PFA.
If ever you spot an animal or bird which is injured or stuck on a tree, you now know who to contact: Tell your parents or teachers about it and ask them to call PFA immediately. Some good uncle will come from there and pick up the bird or animal and take it to the PFA hospital and treat it well.
Here's another secret! Guess what! The animals and birds at PFA love fruits and grains and other stuff like that. So, if you decide to drop in there to visit them (weekends are best), you could take along a gift, which they would really appreciate""maybe a bag of peanuts, corn or raw green lentils or some fruits like papayas, bananas and apples! That would make them very happy!
Kids, it may be good to study other subjects also, which you do at school, but nature is the best teacher, right? It teaches us the best lessons!  You could have a wonderful learning experience in the tree-filled campus of PFA, admiring God's creatures there. So, pack some goodies for the animals and birds there and set off to PFA as soon as possible, with your parents or teachers and friends!
(For more details, see www.peopleforanimalsbangalore.org. PFA Bangalore's helpline number is 9900025370. For PFA India-wide, see www.peopleforanimalsindia.org).