A fish merchant thought of a school to remove illiteracy and poverty. It came up on sugarcane fields. Today the school has over 3,000 students.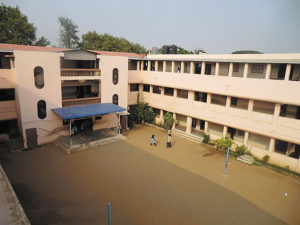 By A Staff Writer
Forty years ago, this place grew sugarcane. Today it is tasting the sweet success of sweat and toil of a visioned, yet very ordinary man who strove to transform it into a school and neighbourhood, throbbing with life. Islamiyah Matriculation Higher Secondary School stands where once farmers grew sugarcane. No wonder, the locality has been named Karumbukkadai (literally 'sugarcane field' in Tamil), a part of the industrial city of Coimbatore.
Its founder, Mr. N. K. Mohammed was a fish merchant from Kerala who had settled down in Coimbatore long back. He was a member of the Jamaat-e Islami Hind. Even while carrying his trade, he was pained to see the illiteracy and poverty around. He could see the intimate relationship between the two, i.e., illiteracy breeding poverty and poverty resulting into illiteracy. He and then (i.e., 1978) Jamaat chief in Tamil Nadu, Mr. Ejaz Ahmed Aslam foresaw potential in turning the area into a thriving locality only if a school could be set up.
Lack of Resources
They gathered well-meaning individuals from the city and founded the Islamic Nursery School in a Muslim dominated slum. Tucked in a corner of the city, it was a forlorn place. People would not venture out alone even in the day time. Going by the socio-economic profile of the people, an English medium school seemed unimaginable. Yet Mohammed sahib persisted. Only twenty kids could be managed in the first year. Persuasion and persistence kept company. While N. K. Mohammed worked hard, Ejaz sab provided the moral and material support from Madras (now Chennai). Two years later, it took some formal shape with Islamiyah School coming up. It could enroll 55 students. The classes ran in thatched huts put up on the land purchased for the purpose. The institution lacked resources, but not the spirit. As confidence grew, they formed the Islamic Educational Trust with seven prominent Muslims joining as trustees.
Over 3,000 Students
Today the Islamiyah Matriculation Higher Secondary School is a well known institution of Coimbatore. Around 3,000 kids enter and exit its portals every day, girls donning white and blue and white hijabs, boys in smart pant-shirts uniforms and women teachers in light blue long coats. The school employs nearly 120 teachers with another 70 imparting lessons in moral and religious studies in pre-school hours. The two-acre campus is ever abuzz with activity. Looking at the growing strength of the school, Mohammed sab originally negotiated for seven acres of land in the predominantly farming land. But he and Ejaz sab could muster up resources merely to pay for two acres. They encouraged others to buy up the rest of the land which was plotted and sold by the investors. Families which bought up these plots and put up their homes, now send their kids to the Islamiyah School. The school building began to be constructed only around 1987.
Safe Environment
Islamiyah School may not be an elite institution, but its forte lies in turning out students who could do well in life with a sound base of knowledge and well-rounded personality. Nearly 60% of its students are girls, who may have remained with education just up to elementary level, if the school would not have opened its portals in the area. Now they easily climb the ladder till 12th standard and compete for seats in professional colleges which abound in Coimbatore (the city has over 60 engineering colleges). Several of those who have studied here, have attained BE, MBBS and degrees in other fields and working in diverse sectors.
According to Mr. M. Naseerullah, managing trustee who is involved in day-to-day affairs of the school, the institution serves the need of the lower middle class of the society who would not afford education in expensive schools. He says, families find the environment safe to enroll their daughters, especially. The school segregates classes for boys and girls from 7th standard onwards. Mr. M. Abdul Hakim, Public Relations secretary of the Jamaat in Coimbatore says the area, now rechristened Salamath Nagar, with several mosques, madrassas and bazaars owes its origin to the Islamiyah School coming up in the locality. The moral and religious section is handled by nearly 60 teachers in the morning. The school with separate sports ground for girls and boys has over 72 classrooms, several labs, prayer halls and library.
The Muslim community here, as is the norm in Tamil Nadu, speaks Tamil. Since it is a two-language formula in force in the State, the school teaches English and Tamil under the language formula. English is however the medium of instructions. However, it provides space for a centre for Urdu learning where National Council for Promotion of Urdu Language (NCPUL) runs classes for Urdu learning at 9th standard level. Around 60 students benefit from the facility. The Trust supports education of around a thousand students with annual stipends to the tune of Rs. 10 lakh from its coffers. The beneficiaries are generally children from single parent families and those of personnel attached with mosques and madrassas. Well trained in sports, the boys from school have brought laurels for the school in State level athletics and other sports.
70% Non Muslim Teachers
Though the non-Muslim students are very few, 70% teaching staff consists of non-Muslim teachers, mainly women. Currently, the school principal is Ms. Shankari Gopalan while Ms. Chudamani is vice principal. According to Mr. Naseerullah, the Trust has acquired some land ten kilometers away to set up another school for the growing population.
Islamiyah School's saga of growth and success owes itself to hard work, perspicacity and a visionary approach.