Pope Francis Announces in Mosque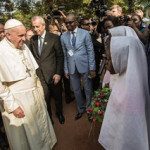 Pope Francis, head of the Catholic Church, was in the Central African Republic (CAR) recently, where, addressing worshippers in a mosque, he announced: "Christians and Muslims are brothers and sisters." He was speaking to Muslims who had sought shelter in the country's capital Bangui after nearly three years of violence between Christians and Muslims in the country, in which thousands have died and hundreds of thousands have been displaced. Half of the CAR's population is Christian and about 15% are Muslim. More than 100,000 Muslims left Bangui as a result of the fighting but 15,000 are left in an area called PK5. According to a report published by the Catholic News Agency, the Pope told Muslim representatives on the final day of his visit to the war-torn country that Christians and Muslims must unite against acts which "disfigure the Face of God" by promoting peace.
"Christians and Muslims are brothers and sisters. We must therefore consider ourselves and conduct ourselves as such. Together, we must say no to hatred, to revenge and to violence, particularly that violence which is perpetrated in the name of a religion or of God himself. God is peace, salam," Pope Francis said.