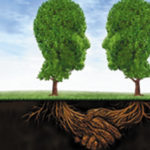 (Note: It is only a visual representation of the concept)
Two young Moroccans, Yassin Kamel and Mohammed Omar Tolai have launched a project under the name TakaFull. This innovation brings together those who have business ideas and those who can fund it or in simple terms, the entrepreneurs and the financiers.
Kamel and Tolai launched the TakaFull at the end of their Masters degree in Finance. They utilized the digital opportunity provided by the Internet that links people looking for precise needs. "We knew a lot of friends who lived in our deprived neighbourhood and were unemployed. We decided to capitalize on the high number of cellphone users and people who could fund businesses".
They used the crowdfunding and crowdsourcing platforms. They were immediately spotted and offered support with their endeavors. Last year, they came 4th in the "Solve For Tomorrow" competition, organized by Samsung Electronics Morocco and Enactus Morocco, an event aimed at encouraging ideas for the improvement of people's lives and the development of solutions by young entrepreneurs using technology (Internet, cellphone etc"¦). Today, they are working on their graduation project, leaving the TakaFull application on standby for the time being. "We have everything we need to get started, supplier contracts and mentors, but we are still looking for a developer who would like to get involved in this adventure." Tolai remarks that the team's objective is to finance 410 projects in three years via the application, according to their "most conservative estimate".