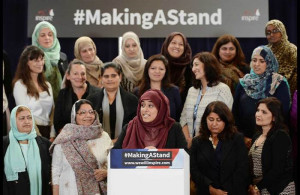 London: Declaring war on those promoting extremism, a group of UK Muslim charities have launched a new multi-faith campaign as a collective effort against radicalization.
The campaign, known as The Fight-back, is an initiative comprising of influential Muslim-led groups that have played a key role in combating terrorism by either de-radicalizing young people involved in violent extremism or helping equip families to spot the warning signs.
"The Fight-back has to start right here and right now, everyone has to step up to the challenge," Suleman Nagdi, of the Leicester-based federation of Muslim organizations and one of the coordinators told BBC.
"Recent events continue to serve as a wake-up call to the serious threat of online and offline radicalization.
"For too long we have seen a lot of good work in different parts of the community, but we have never managed to gel the communities together."
"Many Muslim communities have spoken out against extremism and continue to do so, but what we now need to do now is have a united voice," Nagdi said.
The campaign launch was announced in an online video in which the coalition said the UK urgently needed groups that had been actively combating extremism.
It was backed by the families of David Haines and Alan Henning who were both murdered by militants of ISIL.
In their efforts to promote the campaign, Haines's brother, Mike, and Henning's widow, Barbara, backing the campaign called on a united effort to "reject the lies that extremists spread".
It is worth mentioning that Muslims all over UK have held series of campaign to fight terrorism.
A British Muslim women's group held a conference in Cardiff, as part of their nationwide campaign called "#MakingAstand" against extremism and radicalization.
Muslim communities in Cambridge have also launched a new campaign targeting the strong bond between mothers and daughters to prevent girls from trying to join the militant groups.
Mosques also across the UK launched a campaign to encourage people to help Syrians through charities regulated by the Charity Commission, instead of going to the countries to help directly.