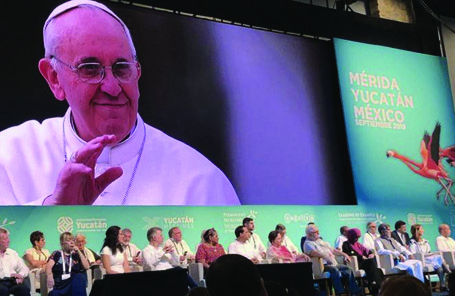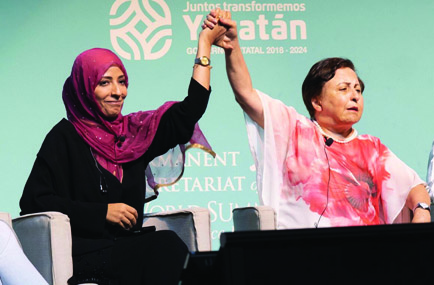 The 17th World Summit of Nobel Peace Laureates gathered in Mérida, Mexico from September 19-22, 2019, to make an urgent call to all countries and organizations of the world, their leaders and citizens, to build a culture for peace. The Summit gathered around the theme Leave Your Mark For Peace and addressed various important issues including: social and economic development, indigenous peoples' cultures and regional peace, global demographics, global media responsibility in peacebuilding, nuclear disarmament, rule of law and international cooperation, and peace education.
Nobel Prize Winners in attendance included: former Presidents Frederik Willem de Klerk from South Africa; Juan Manuel Santos from Colombia, Lech Walesa from Poland; Lord David Trimble, First Minister of Northern Ireland; Shirin Ebadi, first female jurist in Iran; Leymah Gbowee, a peace activist from Liberia who helped to end a civil war; Tawakkol Karman, Yemeni human rights activist; Rigoberta MenchuTúm, known for dedicating her life to promoting the rights of indigenous people; Kailash Satyarthi, children's rights activist from India; and Jody Williams, American activist known for her work to ban anti-personnel landmines.
The Summit concluded with the Mérida Declaration, adopted by the Nobel Peace Laureates and Peace Laureate Organisations, which calls for a renewed understanding of the concept of peace.The Summit also featured a special address by Pope Francis, a performance by Ricky Martin and a climate strike in solidarity with youth around the world. The laureates in attendance issued a statement in solidarity with the youth-led Global Climate Strike.