Edhi created a charitable empire out of nothing. He masterminded Pakistan's largest welfare organisation almost single-handedly, entirely with private donations.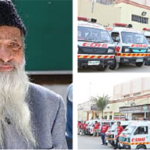 Abdul Sattar Edhi, was a prominent Pakistani philanthropist, social activist, ascetic and humanitarian. He was the founder and head of the Edhi Foundation in Pakistan and managed the organization for the better part of six decades. In 2013, The Huffington Post said that he might be "the world's greatest living humanitarian."
Revered by many as a national hero, Edhi created a charitable empire out of nothing. He masterminded Pakistan's largest welfare organisation almost single-handedly, entirely with private donations. To many, Edhi was known as the "Father Teresa" of Pakistan. Edhi was born on January 1, 1928 in Bantva in Gujarat. His mother would give him 1 paisa for his meals and another to give to a beggar. When he was eleven, his mother became paralysed from a stroke and she died when Edhi was 19. His personal experiences and care for his mother during her illness, caused him to develop a system of services for old, mentally ill and challenged people. The Partition led Edhi and his family to migrate to Pakistan in 1947. He then shifted to Karachi to work in a market at a wholesale shop. He initially started as a peddler, and later became a commission agent selling cloth in the wholesale market in Karachi. After a few years, he established a free dispensary with help from his community. Edhi resolved to dedicate his life to aiding the poor, and over the next sixty years, he single handedly changed the face of welfare in Pakistan. Edhi founded the Edhi Foundation. Additionally, he established a welfare trust, named the Edhi Trust. Regarded as a guardian for the poor, Edhi began receiving numerous donations, which allowed him to expand his services. To this day, the Edhi Foundation continues to grow in both size and service, and is currently the largest welfare organisation in Pakistan. Since its inception, the Edhi Foundation has rescued over 20,000 abandoned infants, rehabilitated over 50,000 orphans and has trained over 40,000 nurses. It also runs more than 330 welfare centres in rural and urban Pakistan which operate as food kitchens, rehabilitation homes, shelters for abandoned women and children and clinics for the mentally handicapped.
The Edhi Foundation, founded by Edhi, runs the world's largest ambulance service (operating 1,500 of them) and offers 24-hour emergency services. It has run relief operations in Africa, Middle East, the Caucasus region, eastern Europe and United States where it provided aid following Hurricane Katrina in 2005. His son Faisal Edhi, wife Bilquis Edhi and daughters managed the daily operations of the organization during his ill health.
Edhi was married in 1965 to Bilquis, a nurse who worked at the Edhi dispensary. The couple had four children, two daughters and two sons. Bilquis runs the free maternity home at the headquarters in Karachi and organizes the adoption of abandoned babies including those born out of wedlock. Edhi was known for his ascetic lifestyle, owning only two pairs of clothes, never taking a salary from his organisation and living in an apartment next to his organization's office.
On 25 June 2013, Edhi's kidneys failed, it was announced that he would be on dialysis for the rest of his life unless he found a kidney donor. Edhi passed away on 8 July 2016 at the age of 88 due to kidney failure after having been placed on a ventilator. His last wishes included the request that his organs were to be donated, but due to his ill health, only his corneas were suitable. He was laid to rest at the Edhi Village, Karachi.