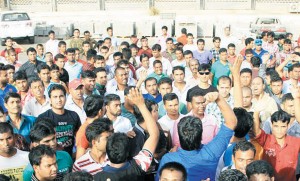 Riyadh: The Kingdom of Saudi Arabia has so far deported more than 800,000 illegal expatriate workers and warned other undocumented workers still staying in the country to rectify their status before a Nov. 3, amnesty deadline expires. The Ministries of Interior and Labor have started sending text messages to citizens and companies warning them against hiring illegal expats. "Special teams have been formed to inspect work places to check on illegal expatriate workers once the Nov. 3 amnesty deadline ends," the message said. Each team will have two inspectors and security support in some locations. They have been empowered to arrest violating workers after the amnesty period comes to an end. Several foreign missions are working towards addressing the grievances of distressed workers, with a large number of illegal expats keen on correcting their status before the deadline. Ibrahim Saleh, an Indian worker, said: "We are thankful to King Abdullah for allowing us to correct our status. It is not a simple issue but I am trying to resolve my problems before the deadline." Muhammad Arshad, an illegal Pakistani worker, said: "I am trying to correct my status before the end of amnesty deadline with the help of the Pakistani Embassy. My problems are getting more complex and I am also in a bad shape financially." Some foreign missions have requested an extension of the amnesty beyond Nov. 3. Among them is the Bangladeshi Embassy which said that up to 400,000 of its nationals are yet to correct their residency status.According to a survey, inaccurate information provided by expatriates, incomplete requirements, inaccessible sponsors, and concealment of residency, among others, are among the factors that affect the status correction procedures.
The Indonesian Embassy announced earlier that 81,000 expatriates, especially women, might not be able to make use of the remaining time to correct their status because of the absence of a labor agreement with the Kingdom.
The Indian Embassy announced recently that more than 1 million Indians have already legalized their status as of October: 466,689 renewed their iqamas, 359,997 transferred sponsorships and 355,035 changed job titles.Philippine Ambassador Ezzedin Tago told Arab News that 95 percent of Filipino workers on the embassy's list, do not qualify for the correction procedures due to lack of requirements.