A Brilliant Example of Religious Harmony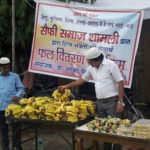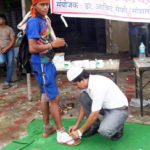 By Anjali Bisaria
New Delhi: While the residents of Delhi NCR generously attributed a part of their traffic woes to the kanwar yatra, some good people of the earth were busy dispensing refreshments to these foot soldiers.
Showing the world how it's done – the very world that is bleeding at the seams thanks to terrorism – Hindus and Muslims, both, organised refreshment centers for the hiking pilgrims who were en route Haridwar during the holy month of saavan.
The camps may have been separate from one another, but in essence, the two set the biggest example of religious camaraderie seen in a while.
Saifi Samaj Shamli
Organised by a group of Muslim social workers, this band of helpers served bananas and biscuits to the kanwars. They also provided medical aid and these pictures show that religion knows no barriers when it comes to humanity.
A 'universal brotherhood movement', the group sees people from all religions who come together to serve the society at large. With an aim to see only the goodness of people's hearts, this social group organised a drive where they served drinks to kanwars at Delhi's Kalkaji Temple.
(www. indiatimes.com)