Profile: Dr. Musa Kaiser of Bangalore Investors Club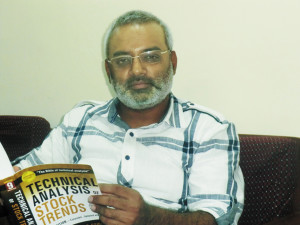 Bangalore Investors Club has been joined by 2,200 membership during the last ten years.
By Maqbool Ahmed Siraj
"It is perfectly legitimate for people to aspire for wealth, create wealth and enjoy wealth. Islam enjoins man to struggle for ample livelihood and spend by way of charity in order to make a difference to the life of those who are not endowed with similar capacity to earn for themselves." Thus says Dr. Musa Kaiser, the founder of the Bangalore Investors Club, a forum to promote public awareness towards smart investment strategies.
An investor himself, Musa has mentored a sizeable number of new age professionals into parking their money where it is at its productive best. Yet what he is doing is not what he was trained in. Son of a former World Bank advisor to the Government of Kenya, Musa earned an MBBS and MD from the prestigious St. John's Medical College in Bengaluru. A 'lapsed physician' now, he unabashedly declares that he is mentoring people into 'how to create life-transforming wealth'.
One among the 2,000
Even more surprisingly, he is one among the less than 2,000 who possess a Chartered Market Technicians (CMT) certificate. CMT is awarded by the Market Technician's Association, New York. The Association sets global standards in Chart Analysis for stock markets. The CMT is a 3-stage, 18-month exam during which the aspirant has to interact with three CMTs around the world. There are less than 80 Indians who possess this and two others besides Musa in Bengaluru. CMT is recognized by the Securities Exchange Commission (SEC) in the US and it automatically qualifies the awardee for a Market Analyst or Fund Manager's job in a mutual or investment fund around the world.
Beginning every Friday evening, when he conducts a live webinar (seminar on internet), his house comes alive every weekend. For the next two days, it is abuzz with people streaming in and out clutching files and sheaf of paper clippings.
At 42, and into mentoring people in moneymaking for nearly a decade, Musa may not be himself a billionaire, but enjoys the confidence of dozens who have created phenomenal wealth for themselves. Among those who are undergoing his 2-year 'Mentorship Programme' currently (the fee for which is revealed only to the actual entrants), is an elite pilot of Air India who has flown high dignitaries of the nation, a vice president of a leading technology firm in Bengaluru who took VRS after having the scent of the money up for grabs in stock market, an NRI who has returned from the United States after an enormously successful career and a software engineer who is based in the US.
'Wealth Lab'
"This Mentorship Programme is for those who can spare 50-60 weekends out of the 104 in two years and can sit from 6-30 am till 10 pm with intense commitment. It also includes in-depth, hands-on training during weekdays during market hours in what he has named 'Wealth Lab' with uncanny sense of embarrassment.
No Daily Drudgery
But that is not all. Over a dozen professional from diverse fields can be seen taking his 2-day crash course at weekends which are always on. They include bankers, techies, advocates and academics who have inherited wealth and are looking for ways to come out of the daily drudgery their professions involve.
Life-changing Book
Bangalore Investors Club had an informal beginning. Musa says he had some inkling of the way the world was on the trajectory of development while he moved about with delegates of umpteen conclaves conducted by his father under the aegis of the World Bank in Kenya. Back in India, and out of college, he and friends would endlessly chat over issues political and economic while he was practising as a doctor around the turn of the century. He knew, though he was trained as a doctor, his interest and aptitude lay elsewhere. He began visiting the local government library in Shivajinagar, subscribed to Outlook Money (now defunct) and began reading The Economic Times. But a turning point was brought about by a book titled Stock Market Trading Rules: 50 Golden Strategies. Says Musa, "The book was a life-changing read and serendipitously popped up into my life while I was on a browsing round in a book exhibition".
Says Musa: "I was a man completely transformed. There was no looking back. I plunged myself in studying trends in the Indian stock market and the broader economic trends. Every morning I would make a chart of share prices with a pencil in hand and would seek help from my wife (a doctor heading a department in a renowned medical college in Bengaluru). I came to know how vast the world of money is and how pathetically deficient is its knowledge among common people, more so among Muslims."
Milestones
There were two more important milestones.
Looking at his profound interest, a good Samaritan sent him the software 'Metasoft' for a hassle-free charting exercise. Further on, a book titled Technical Analysis of Stock Trends (which claims itself to be the Bible of technical analysis) by Edward, Magee and Bassetti came as a complete guide for him.
Musa says road to stock market is not all that paved with gold. "One gains a fortune and should be ready to lose and absorb shocks. One has to learn by experience and go through the agni pariksha (ordeal by fire). I once earned as much money in two and half hours as my wife would make in a month. But then, three months down the line, I lost all that I had made over the period. One has to take all that in his stride. I have recovered and made enough since then," he remarks.
Not only Notional
Musa dispels the impression that stock market only virtually expands the wealth. 'Won't you get the share's worth in the market if you sell them', he retorts. Among the Club's 2,200 members is a street sweeper Gowramma who invested Rs. 35,000 four years ago by filing an application form with a thumb impression in a mutual fund and has already taken out Rs. 55,000 with principal still intact.
Musa says, the education system in India is designed to prepare salaried employees, not the thinking individuals who can create wealth. "There are irrational fears among people about manipulation in the stock market. You tell me which sector of our life is without manipulation. Is politics, governance, administration, bureaucracy without manipulation? Then why blame stock market alone. You need to be aware and alert and position your money at the right place and right time", he adds.
Looking at the Sensex of the Bombay Stock Exchange (BSE), Musa says, if one would have invested Rs. one lakh in 1979 when the Sensex was at 130, today he would have shares worth Rs. 2.23 crore in stocks. "It is simple calculation. The Sensex has rises 223 times during the last 36 years and the shares' worth should have risen just in proportion to it to yield that much value," he gestures.
Musa advises Muslims to give up the notion that piety lies in poverty. 'You would have better things to do with wealth and more charity to spare if you create wealth', is his parting suggestion. Is anyone listening?
Dr. Musa can be contacted at email; [email protected]. Cell: 9341967573.