Hong Leong Islamic Bank Wins Islamic Finance Awards 2015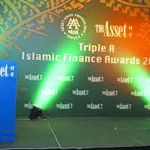 Kuala Lumpur: Hong Leong Islamic Bank Bhd (HLISB) has recently bagged 'The Asset Triple A Islamic Finance Awards 2015' for best bank for digital innovation. In recent times, HLISB had actively increased its focus towards digital banking and this award recognized its overall strategy in the digitization of banking operations. Express Remit is one such innovative solution, which had recently been introduced.
It provides hassle-free cash remittance from Malaysia to Indonesia and is the first in the country to utilize self-service terminals for conversion and remittance. Earlier in the year, HLISB also unveiled a new branch concept in high pedestrian traffic areas, which utilizes state-of-the-art infrastructure and IT systems such as Touch Screen PCs, iPads and real-time video conferencing facilities to further strengthen its digital banking platform. The Asset Triple A Awards provides recognition for excellence in the industry within Asia.